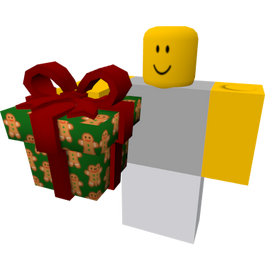 A gift is a type of item that is usually either sold for a limited amount of time, or achievable through an on-site puzzle.
The gifts contain one or more unknown items. Buying them can be very risky as you never know what will come out of them, but the price is usually an indicator of the quality of the items inside of them.
Once the sale/ achievement period ends, the gift will open. Any player who owns the gift at the time it opens will receive a specified prize.
It must be also noted that when a user buys a gift, they can wear it on their character as a tool.
2017
October
              Image                 Name          Price             Requirements                    Prize
| | | | | | |
| --- | --- | --- | --- | --- | --- |
| | Trick or Treat Bag | 15 Bucks | Accounts that purchased it received this. | | |
| | | | | | |
| --- | --- | --- | --- | --- | --- |
| | Skull Trick or Treat Bucket | 150 Bucks | Accounts that purchased it received this. | | |
December
              Image                 Name          Price             Requirements                    Prize
| | | | | | |
| --- | --- | --- | --- | --- | --- |
| | | No price. | Accounts that found the secret key received this. | | |
| | | | | | |
| --- | --- | --- | --- | --- | --- |
| | | No price. | Accounts that played the "Battle for Christmas" game, received this. | | Ice Top Hat |
| | | | | | |
| --- | --- | --- | --- | --- | --- |
| | | | Accounts that typed a certain word like "Construct" or "Brick" in a comment received this. | | Hard Hat |
| | | | | | |
| --- | --- | --- | --- | --- | --- |
| | | No price. | Accounts that had brick-luke in their friend list received this. | | |
| | | | | | |
| --- | --- | --- | --- | --- | --- |
| | | No price. | Accounts that found the secret asteroid received this. | | |
| | | | | | |
| --- | --- | --- | --- | --- | --- |
| | | Unstable.  | Accounts that purchased it received this. | | |
2018
October
              Image                 Name          Price             Requirements                    Prize
| | | | | | |
| --- | --- | --- | --- | --- | --- |
| | Spooky Pillow Case of Discount Treats | 15 bits | Accounts that purchased it received this | | |
| | | | | | |
| --- | --- | --- | --- | --- | --- |
| | | 25 bits | Accounts that purchased it received this. | | Count Dracula's Smile |
| | | | | | |
| --- | --- | --- | --- | --- | --- |
| | | Free, you could only get one, choosing between Ghastly or Ghoulish. | Accounts that purchased it received this. | | TBA |
| | | | | | |
| --- | --- | --- | --- | --- | --- |
| | | Free, you could only get one, choosing between Ghastly or Ghoulish. | Accounts that purchased it received this. | | TBA |
December
| | | | | | |
| --- | --- | --- | --- | --- | --- |
| | Modest Present of Christmastide | 24 bucks | Accounts that purchased it received this. | | TBA |
| | Linear Present of Puzzle Solving | Offsale | Players that solved the ARG puzzle received it. | | TBA |
| | Present of Arts and Crafts | Offsale | Players had to do something simple, on the site to get it. | | TBA |
| | Feral Present of Festivities | Free, or -1 buck | Users had to time when they will buy it, as the price kept changing between Free and -1 Buck, they either would get it for free receiving the gift, or get their buck removed, not receiving the gift. | | TBA |